The latest news, views and reviews from Martin Design. Don't forget to follow us on Facebook and Twitter.
Keys to new City of York Council headquarters handed over
December 10, 2012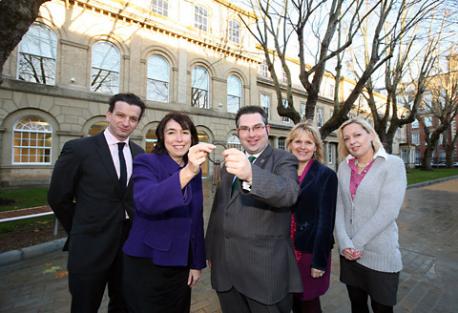 THE keys to City of York Council's new £32 million headquarters have been officially handed over.
The development has taken a year and eight months to be transformed from an 1840s railway station at West Offices to an efficient and sustainable new council base.
Yesterday, Ann Scott of S Harrison and Sandy Smith of Buccleuch Property – the two development companies – handed over the keys to the council's chief executive Kersten England and its leader, James Alexander.
Mrs England said: "It's a fantastic achievement to deliver a complex building to such a high standard in this timescale and we are delighted with the result."
"Heritage groups have praised the scheme as a model for the sustainable regeneration of older buildings. We describe it as a model for co-operative working. The council's own project team and the team from S Harrison and Buccleuch have worked together brilliantly to deliver such an impressive headquarters of which the whole city can be proud."
Work has started on fitting out the building, which will house 1,400 staff and a customer centre for residents. Coun Alexander said: "This move, which has had cross- party support from the start, will pay great dividends for the city and its residents. Not only will it help us realise significant cost-savings – more than £17 million over the next 25 years – but customers will be able to access more efficient, joined up services from one place."
This entry was posted in
News
,
Projects
.
< Martin Design blog is now live!